Sports Massage :
Sports massage is a musculoskeletal biomechanics massage that combines precision and depth. The manoeuvres used include myofascial release, mobilization, stretching and pumping. Sports massage is ideal for those who are physically active and who are used to receiving a vigorous and deep massage.
Resting is often not enough to properly recover after exercising or athletic stress. Sports massage for recovery has several goals:
relax the muscles;
eliminate toxins;
identify and reduce tensions and/or contractures.
When is it best to see your sports massage therapist?
Throughout your training to help maintain healthy muscles and keep your full range of motion.
Throughout your training to prevent injury due to muscle fatigue, tension or loss of mobility.
Before a sporting event to prepare your body to perform better.
During your sporting activity to eliminate muscle tension, loss of amplitude and pain that may appear during your performance. That way, you will be in better condition for your next start.
After your sporting event, either a few minutes later or the next day to help you recover quickly from your effort during your performance.
After a sports injury to accelerate healing and reduce your recovery time.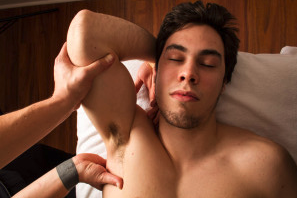 Ideal for :
– Flexibility and muscle elasticity
– Muscle tension that decreases the range of motion
– Muscle cramps or pain
– Pain due to « knots » and muscle spasms
– Joint range of motion
– Fatigue caused by repeated impacts
– Surgery or deep laceration, which can limit movement.