MASSAGE FOR THE ELDERLY
Like it or not, we are getting old! In addition to the accidents that our body suffers over time, all the systems that make up our organism slow down and regenerate more slowly and less easily.
Each person is unique, just like each massage therapy session for the elderly. Each treatment is adapted and personalized to the objectives of the one who receives it.
All with a kind and compassionate touch.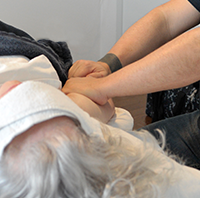 ADVANTAGES :
– Ideal for resolving occasional pain
– Helps with mobility, standing straighter, having better balance.
– Helps in the management of chronic pain
– Helps relieve stress and anxiety
– Effective in promoting mobility, helping joints function well